Welcome and thank you for visiting Sprecher's Fresh Meats, with our wide selection of high choice beef and top quality meats.
We are proud to offer our customers the very best!
WE WILL NEVER, EVER INCLUDE PINK SLIME IN OUR MEATS.
See you in the store.
— Elmer Lapp

---
Beef
SPRECHER'S PREMIUM HIGH-CHOICE BEEF
The chart below is a guide of where the cuts of meat are located.
STEAKS
Delmonico
Strip Steak
Porterhouse
T-bones
Filet Steak
Rib Steak
Top Round Steak
Chuck Steak Delmonico
Flank Steak
Skirt Steak
Flat Iron
8 Oz Black Diamond Steak
Whole Tenderloins
ROASTS
Boneless Chuck
Boneless Rump
Eye Round
Top Round London
Sirloin Tip
Tri-tip Roast
Prime Rib Roast
Boneless Prime Rib Roast
Hind Quarter
Eye Round
Rump Roast
London Broil
Sirloin Tip
Sirloin Steaks
Flank Steak
Fillet and NY Strip or Porterhouse and T-Bone
1 Shank
35 lbs Ground Beef
1 Roast or Chipped Steak
2 Roast or Beef Cubes
6 Steaks
2 Roast or Beef Cubes
1 Roast
Ground Beef or CHippeed Steak
5/6 Steaks
10 to 12 Steaks
6 to 8 Pieces
Approximately 100lbs
Estimated Cost $690
MISCELLANEOUS
Shin Beef
Soup Bones
Short Ribs
Baby Beef Liver
Beef Tongue
Femure Beef Bones
Brisket
Beef Spare Ribs
Front Quarter
Chuck Roast
Brisket
Short Ribs
BNLS Ribeye or Bone-in Ribs
20 lbs Ground Beef
Approximately 95lbs meat
Estimated cost $775
---
USDA Beef Grade
In the United States, the USDA Agricultural Marketing Service (AMS) operates a voluntary beef grading program. The meat processor pays for a trained AMS meat grader to grade whole carcasses at the abattoir. Users are required to comply with Food Safety and Inspection Service (FSIS) grade labeling procedures. The official USDA grade designation can appear in one or any combination of the following ways: container markings, individual bags, legible roller brand appearing on the meat itself, or by a USDA shield stamp that incorporates the quality and/or yield grade.
There are eight beef quality grades. The grades are based on two main criteria: the degree of marbling (intramuscular fat) in the beef, and the maturity (estimated age of the animal at slaughter).
U.S. Prime – Highest in quality and intramuscular fat, limited supply. Currently, about 2.9% of carcasses grade as Prime.
U.S. Choice – High quality, widely available in foodservice industry and retail markets. Choice carcasses are 53.7% of the fed cattle total. The difference between Choice and Prime is largely due to the fat content in the beef. Prime typically has a higher fat content (more and well distributed intramuscular "marbling") than Choice.
U.S. Select (formerly Good) – lowest grade commonly sold at retail, acceptable quality, but is less juicy and tender due to leanness.
U.S. Standard – Lower quality, yet economical, lacking marbling.
U.S. Commercial – Low quality, lacking tenderness, produced from older animals.
U.S. Utility
U.S. Cutter
U.S. Canner
Utility, Cutter, and Canner grade are rarely used in food service operations and primarily used by processors and canners.
---
Ground Meats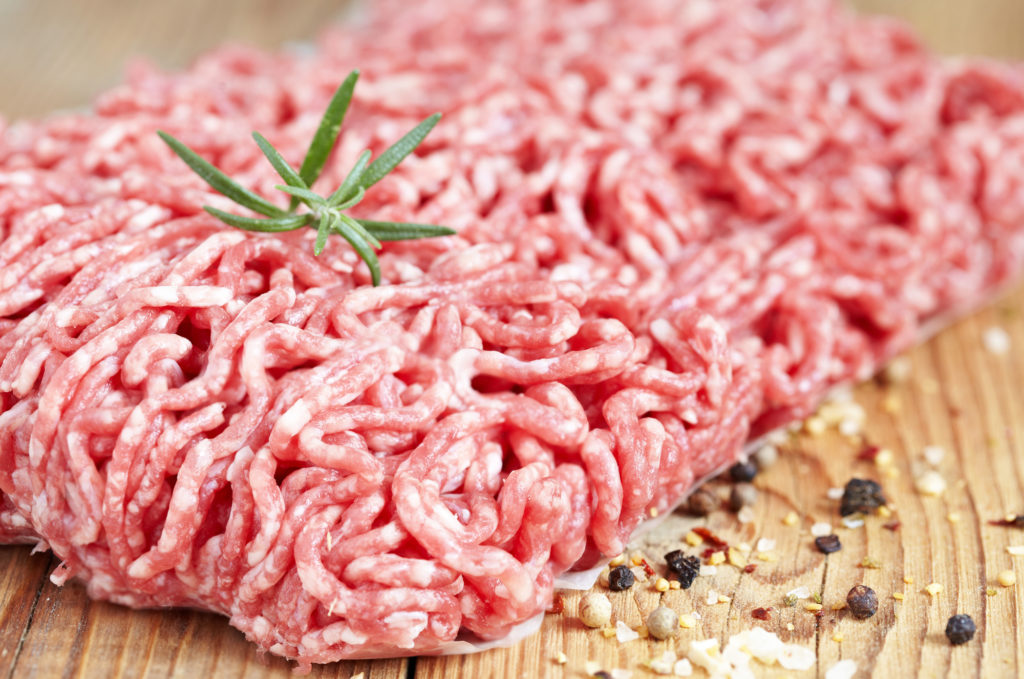 GROUND ITEMS
95% Beef Patties and Bulk
90% Beef Patties and Bulk
85% Beef Patties
80% Beef Patties and Bulk
75% Beef Patties
99% Ground Chicken Breast (No Skin)
99% Ground Turkey Breast (No Skin)
90% Ground Turkey Thigh (No Skin)
95% Ground Veal
80% Ground Lamb
80% Ground Pork
80% Meatloaf Mix (Pork-Beef-Veal)
95% Ground Bison Patties and Bulk
90% Ground Bison Patties and Bulk
Pork and Ham Ham Loaf
Beef and Bacon Burgers
Beef and Cheese Burgers
Turkey Patties
---
Pork
RIBS, CHOPS and MORE!
Bone In Loins
Boneless Loins
Bone In Chops
Boneless Chops
Country Style Ribs
Boneless Country Ribs
Baby Backs
Tenderloins
Fresh Ham
Ground Pork
Pork may be cooked from fresh meat or cured over time. Cured meat products include ham and bacon. The carcass may be used in many different ways for fresh meat cuts, with the popularity of certain cuts and certain carcass proportions varying worldwide.
Pork is particularly common as an ingredient in sausages. Many brands of American hot dogs and most breakfast sausages are made from pork.
Ham and bacon are made from fresh pork by smoking. Shoulders and legs are most commonly cured in this manner for Picnic shoulder and ham.
---
CUTS
American cuts of pork include:
Spare rib roast/spare rib joint/blade shoulder/shoulder butt – This is the shoulder and contains the shoulder blade. It can be boned out and rolled up as a roasting joint, or cured as "collar bacon". It is not to be confused with the rack of spare ribs from the front belly. Pork butt, despite its name, is from the upper part of the shoulder. The Boston butt, or Boston-style shoulder, cut comes from this area, and may contain the shoulder blade.
Hand/arm shoulder/arm picnic – This can be cured on the bone to make a ham-like product, or used in sausages.
Loin – This can be cured to give back bacon or Canadian-style bacon. The loin and belly can be cured together to give a side of bacon. The loin can also be divided up into roasts (blade loin roasts, centre loin roasts, and sirloin roasts come from the front, centre, or rear of the loin), back ribs (also called baby back ribs, or riblets), pork cutlets, and pork chops. A pork loin crown roast is arranged into a circle, either boneless or with rib bones protruding upward as points in a crown. Pork tenderloin, removed from the loin, should be practically free of fat.
Fatback – The subcutaneous fat and skin on the back are used to make pork rinds, a variety of cured "meats", lardons, and lard.
Belly/side/side pork – The belly, although a fattier meat, can be used for steaks or diced stir-fry meat.
Legs/hams – Although any cut of pork can be cured, technically speaking only the back leg is entitled to be called a ham. Legs and shoulders, when used fresh, are usually cut bone-in for roasting, or leg steaks can be cut from the bone. Three common cuts of the leg include the rump (upper portion), centre, and shank (lower portion).
Spare ribs, or spareribs, are taken from the pig's ribs and the meat surrounding the bones. St. Louis-style spareribs have the sternum, cartilage, and skirt meat removed.
---
Poultry
CHICKEN, TURKEY and DUCK
CHICKEN
Whole Roasters
Whole Fryers
Whole Breasts
Split Breasts
Breast Tenders
Boneless Skinless Breasts
Stuffed Breast (Boneless and Bone-In options available)
Chicken Chip Steak
Sliced Breast Cutlets
Jumbo Wing Drumettes
Separated-Wing Tip=Gone
Whole Legs
Drumsticks
Thighs
Boneless Thighs
Ground Chicken Breast-no Skin
Marinated Chicken Breast
Teriyaki, Honey-mustard,
Oriental, Italian/ Lemon-Garlic
Wing Dings
Wing Zings
TURKEY
Whole Fresh Turkeys
Whole Bone-in Breasts
Bone-in Breast Halves
Boneless Skinless Breast
Sliced Turkey Cutlets
Turkey Chip Steak
Turkey Tenders
Legs
Drums
Thighs
Boneless Thigh
Wings
Gibblets
Backs & Necks
Ground Turkey Breast No Skin
Ground Turkey Thigh No Skin
Ground Turkey Thigh Patties No Skin
Whole Smoked Turkey
Whole Smoked Breasts
Smoked Legs
Smoked Wings
Smoked Drums
We also offer a Boneless Duck Breast!
---
Poultry is a category of domesticated birds kept by humans for the purpose of collecting their eggs, or killing for their meat and/or feathers. The word poultry comes from the French/Norman word, poule, itself derived from the Latin word Pullus, which means small animal.
Poultry is the second most widely eaten meat in the world, accounting for about 30% of meat production worldwide, after pork at 38%.
The meatiest parts of a bird are the flight muscles on its chest, called breast meat, and the walking muscles on the first and second segments of its legs, called the thigh and drumstick, respectively. The wings are also eaten, usually (in the United States) without separating them, as in Buffalo wings; the first and second segment of the wings are referred to as drumette (meatier) and flat when these need to be distinguished, though these are technical terms.
Dark meat, which avian myologists refer to as "red muscle," is used for sustained activity—chiefly walking, in the case of a chicken. The dark color comes from the protein myoglobin, which plays a key role in oxygen uptake within cells. White muscle, in contrast, is suitable only for short, ineffectual bursts of activity such as, for chickens, flying. Thus the chicken's leg and thigh meat are dark while its breast meat (which makes up the primary flight muscles) is white. Other birds with breast muscle more suitable for sustained flight, such as ducks and geese, have red muscle (and therefore dark meat) throughout.
Chicken meat contains about two to three times as much polyunsaturated fat than most types of red meat.
---
Bison
AMERICAN NATURAL BISON
We Sell the Following Bison Meat:
95 % Ground Bison Patties and Bulk
90 % Ground Bison Patties and Bulk
Ribeye Steak
Strip Steak
Bison Stew Meat
Interested in large quantities of Bison? Contact us by phone at 610-898-8080, or stop in and visit with us at our store at 3024 Penn Avenue West Lawn, PA 19609.
---
American Natural Bison
The American bison, also commonly known as the American buffalo, is a North American species of bison that once roamed the grasslands of North America in massive herds. Their range once roughly comprised a triangle between the Great Bear Lake in Canada's far northwest, south to the Mexican states of Durango and Nuevo León, and east along the western boundary of the Appalachian Mountains. Because of commercial hunting and slaughter in the 19th century, the bison nearly became extinct and is today restricted to a few national parks and reserves.
Bison are now raised for meat and hides.
The majority of bison in the world are being raised for human consumption.
Bison meat is lower in fat and cholesterol than beef.
For more information on the American Bison visit the Wikipedia article.
---
Veal
MILK FED VEAL
Osso Bucco
Scallopini
Cutlets
Veal Cubes
Loin Chops
Calves Liver
Ground Veal
Veal Boneless Steak
---
Lamb
AMERICAN LAMB
Racks-Frenched
Whole Legs
Half Legs
Leg Steak
Neck Meat
Boneless Legs
Shanks
Loin Chops
Rib Chops
Cubes
Shoulder Steak
Shoulder Roast
Boneless Shoulder Roast
Ground Lamb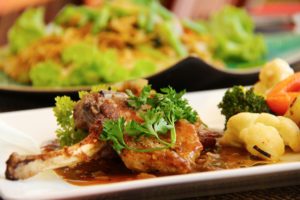 Sheep meat and milk were one of the earliest staple proteins consumed by human civilization after the transition from hunting and gathering to agriculture. Sheep meat prepared for food is known as either mutton or lamb. "Mutton" is derived from the Old French moton, which was the word for sheep used by the Anglo-Norman rulers of much of the British Isles in the Middle Ages. This became the name for sheep meat in English, while the Old English word sceap was kept for the live animal. Throughout modern history, "mutton" has been limited to the meat of mature sheep usually at least two years of age; "lamb" is used for that of immature sheep less than a year.
In the 21st century, the nations with the highest consumption of sheep meat are the Persian Gulf states, New Zealand, Australia, Greece, Uruguay, the United Kingdom and Ireland.  Sheep meat is also popular in France, Africa, the Caribbean, the rest of the Middle East, India, and parts of China. This often reflects a history of sheep production. In these countries in particular, dishes comprising alternative cuts and offal may be popular or traditional. Americans favor the more expensive cuts of lamb: mostly lamb chops and leg of lamb.
---
Deer Processing

DEER
We Offer the Following Deer Processing Services:
Whole Deer $75
Skinned Deer $55
Leg Quarter $12
Vac Packing $0.40 per lb
Bologna $13 a piece (sliced $3 a piece)
Dry Venison $8 a piece (sliced $3 a piece)
Snack Sticks 10lbs $55
Patties $0.45 per lb
Gourmet Patties $5 per lb (50% fillet chains)
Sausage $1.20 per lb (12 lbs minimum)
Smoked Sausage
Smoked Kielbasa
Jerky $7 per lb (wet)
Ring Bologna $1.80 per lb
Raw Pet Food $0.75 per lb
Add Bacon $6 per lb
Add Cheese $5 per lb